Alabama High Asset Divorce Attorney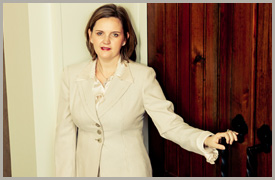 Talk to a Birmingham divorce lawyer who has experience structuring high-asset settlements.
The more you have at stake financially in a divorce, the more important it is to have a divorce attorney who has the experience to reach an equitable division of assets that meets current and future needs. Attorney Candi Peeples began studying and working with high-asset settlements in law school when she clerked for a leading attorney in the field.
She was well versed in high asset property division when she began her own practice, and she has expanded that capability, earning a well-established reputation in the Birmingham legal community.
When there is more at stake – family trusts, family businesses, substantial assets – it is essential to have a legal counselor familiar with valuations, trusts, family businesses and complex financial transactions.
Discovery and the ability to analyze discovery documents are central to a fair division of assets. In an uncontested divorce, discovery is waived. This is not wise when substantial assets are involved.)
Asset division needs to include business and trust valuations plus the tax implications of dividing property.
At our law firm, we take the time to negotiate property divisions that are fair and equitable and that meet the future needs of our clients. At a time when emotions can run high, it is important to make reasoned decisions based on careful evaluation of all financial factors.
When the stakes are high, make sure your lawyer has the necessary experience.
Call 205-403-5577 or contact us by email to set up an appointment to discuss your high-asset divorce. Attorney Candi Peeples has the experience and knowledge you need as you plan for the next phase of your life.