Candace B. Peeples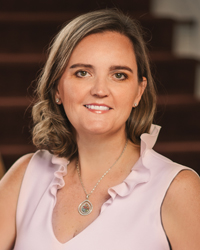 Candace (Candi) Peeples has earned a reputation as a leader among family law attorneys in Alabama and the U.S. She brings her experience, focus and passion for excellence to each client she represents. Candi Graduated from the University of Georgia in 1997 and earned her law degree cum laude from Samford University Cumberland School of Law in 2000, where she was a member of the law school's nationally recognized competitive trial teams for 2 years. Candi has been rated by Martindale-Hubbell as "AV" for several years.
Candi gained experience with high-asset and high conflict divorces, working at The Crittenden Firm, P.C. for seven (7) years following law school. Since 2007, she has operated her own private practice boutique styled law firm, Peeples Law, practicing exclusively in the area of family law with a concentration on matrimonial law and assisted reproductive technology (ART) law. Candi is a certified domestic and appellate mediator, and is listed on the Alabama State Mediation Roster
Candi has served in various capacities with legal organizations. Some of those are as follows:

She serves as an officer of the Family Law Section of the American Bar Association (ABA). Where she will serve as the Chair / President of this organization for 2021-22.
She is a fellow in the American Academy of Matrimonial Attorneys (AAML).
She is a fellow in the International Academy of Family Lawyers (IAFL).
She is certified as a specialist in "Family Law Trial Advocacy" by the National Board of Trial Advocacy and the National Board of Legal Specialty Certification (NBLSC).
She is a past president of the Alabama Bar Association's Family Law Section.
She was named as one of the Birmingham Business Journal's "Top 40 under 40" in 2005 at age 31.
She was a member of the Alabama State Bar Leadership Forum (Class 7) in 2010-2021
She is a "Lifetime Fellow" of the American Bar Foundation.
She serves on the Dean's Advisory Committee for the Cumberland School of Law.
She teaches Continuing Legal Education (CLE) courses on family law to other attorneys in conferences throughout the U.S.
She has won numbers honors and awards. Some of those are as follows:

She was selected as the "Attorney of the Year" by the Alabama State Bar Family Law Section in 2013.
She was featured as one of the city's "top attorneys" in 2009-present by Birmingham Magazine, a selection voted on by her peers in the legal field.
She was honored by Birmingham Magazine's "Best of Birmingham" in the Attorney Division in 2017.
B. Metro Magazine has honored her as the "Face of Matrimonial and Family Law from 2015-2020.
Super Lawyers previously designated Candi as a "Rising Star" in the Birmingham legal community, and currently she is listed as a Mid-South Super Lawyer in the area of Family Law.
Outside of her Legal Practice, Candi is an active member of the Birmingham community and has served in various other community organizations. Some of those are as follows:

Junior League of Birmingham
Ballet Guild Women's Committee
Delta Gamma Sorority Birmingham Alumni President.
Purse and the Passion, Table Captain
Service Guild of Birmingham
The Women's Network
Shades Valley Rotary Club, Mountain Brook
WBHM, "Friends Board"
Women's Fund "Voices against Violence"