Birmingham Adoption Lawyer
An experienced attorney can ensure all adoption documents are accurate and legal.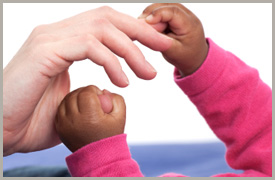 We love adoptions at our law firm. We understand how important adoption is to all members of the family, and we take care to make sure all appropriate documents are in place and registered with the probate court to make the child a legal member of the family.
When an adoption is complete, the child will be yours as if you had birthed the child.
We have extensive experience with the legal, medical and insurance regulations involved with Assisted Reproductive Technology (ART).
We draft agreements for an egg donor or sperm donor and the prospective parents.
We work with agency adoptions, with stepparent adoptions, and with adoptions within the family (grandparents, aunts and uncles).
We work with agencies on international adoptions, making sure the child has an Alabama birth certificate and a Social Security number so that the child will be a U.S. citizen eligible for the benefits of citizenship.
If you are adopting a child, congratulations. We are fully prepared to help with the necessary legal documents.
If you are planning an adoption, talk to an attorney.
Attorney Candi Peeples is experienced Birmingham adoption lawyer with a knowledge of all types of adoption, including ART – Assisted Reproductive Technology. For experienced guidance, call 205-403-5577 or contact us by email.