Julia G. Williams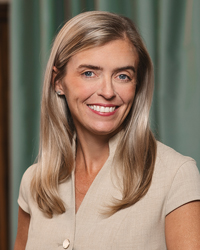 Julia is a partner in the firm of Peeples Law. Julia is admitted to practice law in Alabama (2015), Tennessee (2009) and Mississippi (2010). After graduating cum laude for both her undergraduate and law degree at Ole Miss, Julia began practicing family law in Memphis, Tennessee in 2009. In 2010, Julia began a Mississippi family law practice for her Memphis firm. After moving to Birmingham, Alabama, Julia  joined Peeples Law in 2015. Practicing family law in three different states has given Julia a unique perspective which has contributed to her success. She has extensive experience litigating cases at the trial court level in Mississippi, Tennessee, and Alabama, as well as experience at the appellate court level.
In addition to her law practice, she serves on
The Parkinson Association of Alabama, Inc., Junior Board
The Guild of Independent Presbyterian Church
The Ballet Guild of Birmingham
The Children's Arts Guild
The Junior Women's Committee of 100.
In the past she has also served on
The Dixon Gallery and Gardens (Memphis, TN)
Junior League of Memphis
Junior League of Birmingham
When she is not practicing law, she enjoys spending time with her family.