Birmingham Prenuptial & Postnuptial Agreement Lawyer
Make sure you both understand your rights and responsibilities.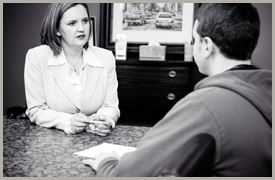 The process of negotiating a prenuptial agreement can be the foundation for a healthy marriage. Couples are often focused on the wedding, but working out a prenup helps place the focus on a life together, including the rights and responsibilities of each of the partners.
In the event of a divorce, the prenuptial agreement will have already established the division of property and other aspects of ending the marriage.
A prenup helps both spouses understand what to expect.
For a prenuptial agreement to hold up in court, both parties should have a lawyer to represent their individual interests.
A premarital agreement is particularly advised when one or both parties brings substantial non-marital assets to the marriage, or when one or both has children from a previous marriage.
A postnuptial agreement is a similar document that is negotiated after the couple has been married.
The postnup is often the result of changed circumstances – an inheritance left to one spouse, a difficulty in the marriage (such as infidelity), or some other change.
As with a prenup, both parties should have an attorney to ensure the agreement was done without coercion or undue influence.
Talk to an attorney experienced in family law and divorce.
Because of her experience, Birmingham prenuptial & postnuptial agreement lawyer Candi Peeples knows the issues and concerns that should be considered when negotiating and drafting a prenuptial or postnuptial agreement. Call 205-403-5577 or contact us by email to set up an appointment.