Birmingham Grandparents Rights Lawyer
If you are concerned about your grandchildren, talk to an experienced Birmingham grandparents rights lawyer.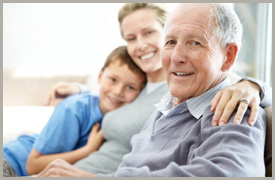 Grandparents often want to know, "What are my rights? Am I entitled to visitation?" The answer is that the law in Alabama is unsettled. But if you are worried that your grandchildren are not in a safe and healthy living environment or if their parents are unable to care for them, you may have options.
If there are two fit parents, the courts assume that the parents can make decisions about who can see the children.
If you are concerned about the welfare of the child, talk to an attorney about a dependency action.
If the parents are ruled unfit or give up their parental rights, grandparents can petition the court to serve as guardians.
Adoption may be an option if the parents are unable or unwilling to care for the child.
In Alabama at this time, grandparents do not have visitation rights. There are efforts to change the law. If you have questions or if you have cause to worry about a child's well-being, talk to a family law attorney.
Know your options if you are worried about grandchildren.
Attorney Candi Peeples can explain the law, listen to your concerns and explain your options if there are any at this time. Call 205-403-5577 or contact us by email for an appointment with one of our experienced Birmingham grandparents rights lawyers.