How To Cope With The Chaos Of Divorce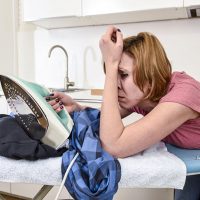 When your divorce case is pending, it can feel like everything you have worked for since you took your first steps into adulthood is falling apart.  From the time you graduated from college until the day you received your spouse's divorce petition, you never wasted a minute or a penny.  Your work ethic and emotional stability were the stuff of legend, and you kept the peace with your in-laws against all odds.  Despite all of this, your spouse dumped you, and now you feel like an insecure freshman flunking out of college with no plans for what you will do next.  Walking your kids to the bus stop before school takes all your energy and all your concentration; you have no strength left to fill out job applications, fold the laundry, or even log into your credit card account to make a payment.  This state of exhausting uncertainty is temporary, and a Birmingham divorce lawyer can help you get through it.
Accept That Life Is Not Perfect, and Neither Are You
The breakup of a marriage is one of the most disruptive things that can happen to you, especially if you have minor children.  Do not hold yourself to unrealistic expectations.  It only makes sense that, on days when your children are with you, you cannot get as much done in one day as you could when you and your ex were together.  If you can prioritize one task per day, consider it a victory.  Tasks that involve your divorce or your children should take precedence.  If you return your divorce lawyer's phone call or schedule an orthodontist appointment for your child, it is a victory.  You are welcome to spend the rest of the day lying on the couch and reading Bridget Jones's Diary.  If you laugh when you read the part where Bridget congratulates herself on having one positive thought on an otherwise awful day, consider your day a success.
Choose Fun Over Responsibility, Within Reason
Some people need to accomplish things in order to cheer up, and others need to cheer up in order to accomplish things.  If you are the former, then coupon clip, declutter, or exercise your sorrows away so you can be in an okay mood when your kids get home from school.  If you are the latter, then watch music videos that were popular in your youth on YouTube until you have the energy to return your divorce lawyer's phone call, schedule your kid's orthodontist appointment, or do the dishes.  Remember that any modicum of fun or of having your act together that you can show your kids will pay dividends.  Showing your kids videos of the Spice Girls and talking about how you and your sister used to try to dress like them counts as quality time.
Know That Things Will Get Easier
Realistic daydreams about the future are a healthy coping mechanism.  You will find a new job.  Your kids will get older and you will laugh about these hard times you spent together.  Maybe you will even find a new romantic relationship and build new memories with your children and your new partner.  Right now, you have to get through today, but when you do, tomorrow will be waiting for you.
Contact Peeples Law About Thinking Clearly About Divorce
A Birmingham family law attorney can help you make wise decisions about your divorce when you feel like your whole life is in chaos.  Contact Peeples Law today to schedule a consultation.
Source:
ourfamilywizard.com/blog/5-ways-improve-your-self-care-during-divorce