Important Issues To Discuss With A Divorce Lawyer During Your First Meeting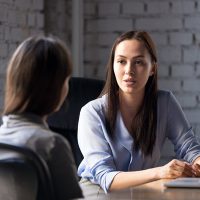 After months of anticipation, you finally made your move, but now you are a nervous wreck.  In the early hours of January 1, you filled out the online contact form on a divorce lawyer's website.  You didn't even wait for Divorce Monday.  Now the law firm has responded to your communication, and you have an appointment to meet with a lawyer, but you find yourself uncharacteristically at a loss for words.  Who knew that the anticipation of a first consultation with a divorce lawyer could feel so much like the anticipation of a first date?  Divorce lawyers have met with so many clients that they have a plan for what to say about how the legal process of divorce works, and based on what you tell them about your situation, they can give you advice about what to do in the short term and in the long term.  You should ask some important questions, too, to know if the lawyer across the desk is a good match for you.  The way a Birmingham prenuptial and postnuptial agreement lawyer answers these questions can tell you a lot about how well suited he or she is to handle your case.
The Lawyer's Experiences With Mediation and Litigation
In some cases, lawyers can tell, from the first meeting, that the case will need to go to trial.  Most issues, even though the spouses disagree about the details, can be worked out in mediation.  For example, if your wife has been a stay-at-home mother for 15 years, it is probably obvious to you that she will need alimony for a few years even if she starts applying for jobs as soon as she sees the divorce petition; mediation, not a trial, is usually the best place to reach an agreement about the amount and duration of the alimony.  On the other hand, if your marital property is so valuable that you and your spouse disagree about the value of the property, you will probably need to go to trial.
The Inner Workings of the Law Firm
Law firms usually bill by the hour for divorce cases and post-divorce modifications.  An hour of a lawyer's time spent on your case costs more than an hour of work by a paralegal or other law firm employee.  Ask how the law firm divides tasks among its staff members for divorce cases.  Don't demand your lawyer's undivided attention on every detail of your case; this will only make your divorce much more expensive than it has to be.
The Lawyer's Experiences With Parenting
It is not a deal breaker if you have children and your lawyer doesn't, but parents tend to have better suggestions about parenting plans than non-parents.  If your lawyer has children, then she knows exactly how hard it is for elementary school kids to keep track of all the items that are supposed to be in their backpacks, and that the cues for teenager tantrums are as subtle as the cues for toddler tantrums.
Contact Peeples Law About Starting Off Your Divorce on the Right Foot
A Birmingham family law attorney can help you identify realistic requests to make in your divorce petition and resolve your divorce as quickly and with as little stress as possible.  Contact Peeples Law today to schedule a consultation.
Source:
divorcedgirlsmiling.com/10-questions-to-ask-a-divorce-lawyer-at-your-first-meeting/