What Does Your First Ex-Spouse Have To Do With Your Second Divorce?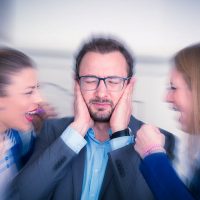 If there is anything good about divorce, it is that, once the divorce is over, you do not have to deal with your ex-spouse and your former in-laws again unless you want to.  It isn't quite so simple if you and your ex had minor children at the time of your divorce, but in that case, the best-case scenario is that you find someone new, and your children become part of a new blended family, but your ex-spouse doesn't.  History can repeat itself, however, and you might find that the same problems that eventually tanked your first marriage also surface in your second marriage.  In this case, the best-case scenario is that you learn from your mistakes the third time around, but the worst-case scenario is that your current spouse and your ex appear side by side at your trial, each corroborating the other's stories about your misdeeds.  If your second divorce is shaping up to be even messier than the first one, a Birmingham divorce lawyer.
Can Your Ex-Spouses Team Up Against You?
The fact that it is not your first divorce does not always make your case more complicated; for example, people who have been previously divorced are more likely to sign prenuptial agreements or, even if they don't, to agree about which assets to merge and which to keep separate.  You and your second ex might decide that you don't want another painful divorce, so you honor your commitment to stick with mediation until you emerge with a marital settlement agreement, even if neither party comes away with as much of the marital property as he or she wanted.
On the other hand, if your current spouse is accusing you of things like hiding assets and withholding child support and temporary alimony, or even less obviously illegal behaviors such as being a serial cheater or bullying your close family members, your first ex-spouse might have some things to say about the matter, and your second ex's lawyer might call on her to do just that.  Of course, this only happens in the messiest of divorces.
The more likely scenario is that financial documents related to your divorce will be relevant to your second divorce.  For example, if you are still paying child support for your children from your first marriage, this affects how much child support you can afford to pay for the children from your second marriage.  Likewise, if you filed for bankruptcy after both of your divorces, and now your second ex is trying to stop you from reducing your alimony or child support, the fact that your bankruptcy filings follow a pattern could be relevant to the case.
Contact Peeples Law About Surviving Divorce the Second Time Around
A Birmingham family law attorney can help you if your divorce case is so messy that it is sending out ripples of drama that reach all the way to your previous divorce.  Contact Peeples Law today to schedule a consultation.
Source:
sasforwomen.com/i-feel-sorry-for-my-exs-new-wife/