Why You Should Bring A Lawyer To A Divorce Mediation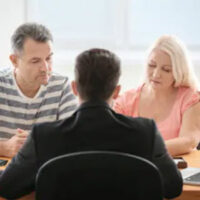 Divorce is never easy. Even when both parties are on the same page, negotiating and working through some of the most sensitive and triggering issues, such as finances and children, can be incredibly emotional. It can be difficult for both parties to navigate the process calmly and equitably. If you and your spouse wish to limit the cost and time spent on the divorce and keep it as amicable as possible, mediation is a great alternative. Mediation allows you and your spouse to arrive at mutual decisions for all major issues prior to arriving in court. This allows you to come up with agreements with regard to the division of debt and assets, custody, and alimony, that you both agree to, without having to risk leaving it up to the judge. In fact, once you have reached these mutual agreements they can be submitted to the court, requiring only approval. As you can imagine, this greatly expedites the process. It's important to note that family law mediation is a voluntary process that both spouses must agree to. If one spouse is not interested or opposed to this process, it is unlikely to work. If both spouses are motivated to pursue this course of action it can be highly beneficial. However, mediation is not without its challenges.
The Benefits of Having a Lawyer for Divorce Mediation
Even when both spouses start with the shared intention of cooperating, there is a lot that emotionally complicates the dissolution of a marriage. Having your own advocate to keep you centered and focused on your goals can streamline the process and help keep you focused on what is important. Another reason to have an advocate in mediation is that existing power dynamics within a relationship can tend to remain present and dominate in a mediation if not disrupted. For instance, if one spouse generally makes the decisions and the other spouse is used to not having a say, this can be hard to overcome in such a new, emotional, and high-stakes setting. With an advocate there to represent your interests, it will disrupt the original roles and ensure that both parties have equitable footing with their interests and needs represented. Having a divorce attorney to advocate for you also takes some of the pressure off of your relationship. Instead of feeling like it's one spouse versus another, it becomes a more collaborative effort, and the more difficult topics can be hashed out between lawyers instead of one-on-one. In this way, it can be protective of the relationship, which can be helpful, particularly if you have shared children who you plan to co-parent. Having lawyers can also expedite the process by keeping the negotiations moving forward and on track. Your attorney will also ensure that you are fully aware of everything that you are entitled to so that anything you agree to is fair and honestly represented.
Talk to a Birmingham, Alabama Divorce Lawyer
If you are currently considering divorce or need assistance with a family law matter, the experienced Birmingham divorce attorneys at Peeples Law are ready to help. Contact us today to schedule a consultation.