Can Your Friends And Family Make Your Divorce Worse?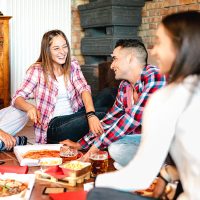 Stressful situations like divorce are very effective at showing you who your real friends are.  Some of your friends will give you all of the emotional support you need without adding to the drama, while others will find a way to make things all about them.  Perhaps, when you were young, you found your mother's relentless optimism and good cheer in the face of adversity inspiring, but when you try to talk to her about your divorce, her unflinchingly sunny outlook on life begins to sound more and more like toxic positivity.  Maybe you have been laughing at your friend's misogynistic jokes for years, but now that you are a single dad of two daughters, the jokes you used to find funny give you the creeps.  Divorce affects every aspect of your laugh in ways that it is almost impossible to laugh off; the year you get divorced is a difficult year no matter what you do, but your friends and family can ease the transition for you and your children.  There is no one-size-fits-all way to determine the role that your friends and relatives should play in your post-divorce family, but you should not involve them directly in the legal proceedings, at least not until after you consult a Birmingham divorce lawyer.
Let Your Family and Friends Help You, but Don't Get Caught Up in the Drama
Family and friends can be a great source of emotional support while you are going through a divorce.  These are some of the ways that they can help:
Listening as you talk about problems and emotions that you cannot talk about in front of your children
Hosting you for holidays that you previously used to spend with your spouse and children
Adding fun routines to your parenting time, such as playing mini golf with your friend and your friend's kids every weekend during your parenting time
Easing the financial stress of divorce by letting you stay in their house or use their car for a few months
Everyone's situation is unique, and you probably already have a sense of which friend or family member can help you with what.  If your parents offer to buy you and your kids plane tickets to visit them at Thanksgiving, decide whether the memories you will create between your kids and their grandparents are worth spending an entire five days listening to your parents talk about how divorce is a moral failing.
It is unlikely that your family and friends will need to testify in your divorce case.  The court will only ask them for a written statement or to appear as witnesses at trial if they have information that no one else has.  For example, if your sister was an eyewitness to your ex-spouse threatening your children with physical violence, then her testimony is indispensable.  In general, though, bringing in he-said, she-said testimony will not help your divorce or child custody case.
Contact Peeples Law About Relying on Your Family and Friends During Divorce
A Birmingham family law attorney can help you with the legal and financial details of your divorce, so your family and friends can focus on creating happy memories for the holidays.  Contact Peeples Law today to schedule a consultation.
Source:
emmaheptonstall.com/divorce-coaching/friends-and-family-during-divorce-5-dos-and-donts/