How Much Do Children's Opinions Count In Parenting Time Decisions?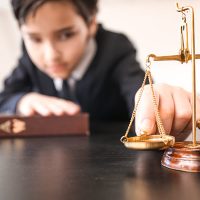 Based on the principle of selfless love, you should want your children to be as happy during their time with your ex-spouse as they are during their time with you.  The family courts do not expect you to be a perfect parent or to possess superhuman altruism, but they do expect you not to intentionally sabotage your children's relationship with your ex.  Despite this, it is virtually impossible not to grin from ear to ear on the inside when your kids tell you that the food is better at your house than at Dad's house or that they appreciate how much more laid back you are than Mom when it comes to tidiness.  When this happens, you should just enjoy the compliment and then go right back to following your parenting plan.  The family courts are not in the business of deciding who is the better parent or which parent the children love more.  In some cases, though, courts do seek the opinions of teenagers when determining parenting plans for them.  A Birmingham child custody lawyer can help you and your ex-spouse agree on a parenting plan for your teens.
If Your Kids Prefer Living With Your Ex, You Probably Already Know This
Divorce cases where the court imposes a parenting plan on the parents against their will are the exception to the rule.  Most couples are able to agree on a timesharing schedule during mediation.  In other words, they already know what is best for their children.  As low an opinion as Dad may have of Mom's new boyfriend, he can see that insisting on having the kids spend school nights at Dad's house would require them to change schools, which would be unnecessarily disruptive.
When the parents are at an impasse and the court has to decide on the parenting plan, however, its priority is the children's best interest.  This usually means as little change to the children's current routine as possible.  It also accounts for whether the children are likely to be in danger at either parent's house.  Likewise, it counts against you if you try to interfere negatively in your children's relationship with your ex, such as by failing to let your ex exercise his parenting time or badmouthing your ex and his new wife.  For teenagers, the courts may consider the teens' preferences as one of many factors determining their best interests.  There is no minimum age at which the court may ask a child to meet privately with the judge to discuss his or her parenting time preferences, but the courts generally only do this with teens who are old enough to attend middle school or high school.
Contact Peeples Law About Parenting Plans for Teens
A Birmingham family law attorney can help you reach an agreement with your ex-spouse about an appropriate parenting plan for your teens, one which takes the teens' preferences into account.  Contact Peeples Law today to schedule a consultation.
Source:
divorcenet.com/resources/a-childs-preference-alabama-custody-proceedings.html