Imputed Income And Alabama Family Law Cases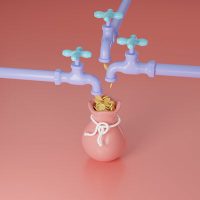 Ask any divorced person why their marriage fell apart, and most of them will list disagreements about money as one of the factors that led to the breakdown of their relationship with their spouse.  Some couples fight about one spouse spending beyond their means or contributing too much to the financial support of an extended family member, while others are resentful that one spouse chooses to stay out of the workforce or to pursue business opportunities that go nowhere, leaving the other spouse with the majority of the financial burden to support the family.  For the most part, divorce courts do not care about all the finger pointing and old grudges; they only care that each former spouse gets their fair share of marital property and, in the case of couples with minor children, their fair share of parenting time.  Sometimes, though, the court does decide that your ex-spouse should work and how much money your ex should be making.  To find out more about getting divorced from a voluntarily unemployed person, contact a Birmingham divorce lawyer.
Is Imputed Income Good or Bad? 
Divorce is easiest when both parties are honest with each other and with the court about their finances.  If your ex was a stay-at-home parent during the marriage, the court will not expect you to continue financially supporting your ex indefinitely after the divorce.  If the court orders you to pay alimony, it will do so with the assumption that your ex will be working; you may need to pay some alimony until your ex gets re-established financially.
Likewise, the court may impute income to your ex if your ex claims to be unable to pay child support because of unemployment.  If you can show that your ex is able to work but just chooses not to, the court will impute income to your ex.  In other words, when the court imputes income to one spouse, it is usually at the request of the other spouse.
How Does the Court Calculate Imputed Income?
Since imputed income is hypothetical, how much does the court decide to impute?  Especially in the case of stay-at-home parents who were only out of the workforce a few years, it is as simple as imputing income in the amount you were earning at your last job.  In other cases, though, both parties must summon experts, such as forensic accountants and vocational counselors, to determine the appropriate amount of income to impute.  This is especially true in the case of people whose income varies considerably from one year to another and where there is room for disagreement about what conditions will be like in that person's industry in the future.
Contact Peeples Law About Imputed Income
Unfortunately, disputes about how to earn and spend money do not always end as soon as your divorce becomes final.  A Birmingham family law attorney can help you if you and your ex-spouse disagree about how much money one of you should be earning.  Contact Peeples Law today to schedule a consultation.
Source:
casetext.com/rule/alabama-court-rules/alabama-rules-of-judicial-administration/rule-32-child-support-guidelines-effective-may-1-2022/rule-32-child-support-guidelines-effective-may-1-2022