Understanding Divorce By Default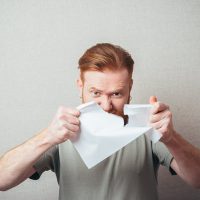 If your spouse is missing, uncooperative, or has failed to respond to divorce papers, you may be feeling frustrated and wondering if you will be trapped in this marriage forever. The good news is that there is a way out of your marriage even if your spouse is not on board. Even the most uncooperative spouse cannot keep you stuck in a marriage forever, it will simply require a different legal strategy and process. The best thing you can do if you are having a difficult time receiving the divorce that you desire is to talk to an experienced Birmingham, Alabama divorce attorney. Every divorce is different, so general advice and DIY strategies can only go so far. An expert divorce attorney can review the facts and circumstances of your unique situation to determine the best available legal strategy. If you are interested in receiving personalized feedback about your divorce case, you are welcome to contact Peeples Law to schedule a consultation and learn more about your options. 
How Do I Get a Default Divorce?
A default divorce is the best option in a number of circumstances, including if you are unable to serve your spouse with divorce papers or if your spouse fails to respond to the papers that are served. In order for a legal proceeding to be constitutional, both parties need to receive notice of it. After your spouse is served with notice of the divorce they have 30 days to respond to it. If they fail to respond to the notice, then it opens the window to a default divorce. It's important to understand that default divorce proceedings do not happen automatically when a party fails to respond within the allotted 30 days, and they are not initiated by the court. If you are interested in a default divorce the responsibility is on you (or your attorney) to see if the other party failed to respond in time. If they have, you can then file for a default divorce. You will then receive a date to appear for your default divorce trial, where you will be able to argue for whatever you want. This is the primary benefit of a default divorce: there is no one to argue against you. This leaves the floor open for you to present exactly what you would like out of the marriage dissolution (settlement, custody, etc.). The court must then simply make a decision about whether to approve it. This method of divorce gives you far more control over the outcome than any other method, which may be ironic considering that it likely started out feeling like you had no control over the process at all due to your spouse's lack of cooperation.
Talk to a Birmingham Divorce Lawyer
It can be difficult figuring out how to initiate a default divorce, and having an experienced legal advocate on your side to help you navigate the process makes all the difference. Contact the experienced Birmingham divorce attorneys at Peeples Law and schedule a consultation today to find out how we can help you work toward the best outcome possible so that you can move forward in life.
Source:
alabar.org/assets/2014/08/divorce_english.pdf