What Can I Do If My Spouse Won't Sign Divorce Papers?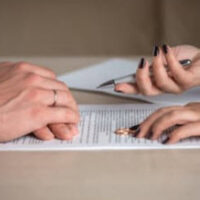 Getting a divorce is difficult even in the best of circumstances. It is not an easy decision to dissolve a marriage, and even when both spouses agree that it is the best decision, it can bring up a lot of complicated emotions and reactions that can make even an amicable divorce rocky. However, when both spouses aren't committed to working toward the same outcome the process can become far more complex. Some people make the difficult decision to move forward with a divorce only to be met from resistance or refusal by their spouse. So what happens if your spouse won't accept the divorce papers or will not sign them?
Can Your Spouse Prevent Divorce By Refusing to Sign the Papers?
Don't worry. While your spouse may believe they can control the situation by refusing to accept or sign divorce papers, they don't actually have that power. At best, they will prolong the process and increase the attorney's fees. However, regardless of what you may have seen in movies or on television, one spouse cannot actually stop a divorce from moving forward just by refusing to cooperate. You still have options for moving forward with the process.
Contested Divorce in Alabama
There are a number of grounds for both contested and uncontested (no-fault) divorce in Alabama. Uncontested divorces are faster and less expensive because none of the time spent in court must be spent determining whether the basis for divorce is valid. For instance, if both spouses agree that they have irreconcilable differences, the court doesn't need to determine whether that is true. However, if one spouse claims the fault-based grounds of adultery and the other spouse contends this assertion, time will have to be spent determining whether the spouse actually committed adultery before the court can move on to focusing on the actual business of divorce. If your spouse will not sign the divorce papers, the divorce cannot be considered uncontested, regardless of the grounds.
In order to move forward with contested divorce, you will serve your spouse with a complaint. Your lawyer can help ensure that service of process is proper. Your spouse will then have 30 days from the time that they receive the complaint to respond to it. If they respond to it and appear in court on the date included in the complaint, then you will move forward with the contested divorce proceedings in court. If, on the other hand, they are served and do not respond to the complaint within the 30-day period, then the filing spouse can simply appear at their divorce hearing and they will likely be granted everything that they asked for in the original complaint. If the complaint cannot be served properly because the spouse cannot be located, the filing spouse may be required to take an advertisement out in the local newspaper announcing the divorce and providing information for the missing spouse on how to respond. If the MIA-spouse still does not respond, the filing spouse can appear at their divorce hearing and will likely be granted divorce by default and receive everything they asked for in their original complaint.
Talk to a Divorce Lawyer
If you are considering divorce or are struggling with a contentious divorce, schedule a consultation with the experienced Birmingham divorce attorneys at Peeples Law. We will help you navigate this process and get the freedom, financial security, and peace of mind that you are entitled to.