What Happens To A Business In A Divorce?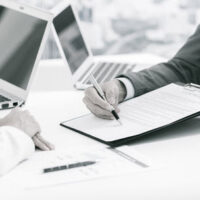 It can take years of investing energy, time, and money to build a business. For this reason, businesses can often be the biggest source of anxiety when considering divorce. Weighing the decision to leave an unhappy marriage against being able to protect and continue your business is not a position that anyone wants to find themselves in. Ideally, couples have a prenuptial or postnuptial agreement that specifies how business equity of ownership will be handled in the event of a divorce. However, in the absence of such an agreement, you may end up having to continue running the business with your ex-spouse, giving up your share in the company, or negotiating new terms of ownership. It goes without saying that these agreements are always better negotiated when both partners are in a good place, such as before marriage or with a voluntary postnuptial agreement. Everything has the potential to get messier in a divorce where feelings are raw and spouses can lose sight of what is fair or best for the business. For this reason, if you are not yet married, or are married and contemplating divorce, the next step to consider should be a prenuptial or postnuptial agreement which provides comprehensive protection to the business in the event of a divorce. However, if you are past this point, the information below will outline what to expect with regard to your business while going through a divorce in Alabama.
Valuing Your Business
It's important to note that if the business was formed by one spouse prior to marriage, the business may be considered independent property as opposed to joint property, and may not be impacted at all by a divorce. For a jointly-owned business or a business that was formed during a marriage in Alabama, there are still a number of possible outcomes. You do not have to know what the outcome will be or even which outcome you desire in order to proceed with this step. Getting an accurate appraisal of the value of the business will help give you a better sense of your options and is necessary in the process of asset distribution. There are a number of different ways to value a business, including approaches based on income, assets, and market. The income approach is the most common. However, a lawyer can help you determine which method is the most advantageous for your particular circumstances.
Possible Outcomes
Once you have an accurate understanding of the business's value, a lawyer can help you begin working toward a solution with your spouse. This may involve offering them other assets equivalent to their share in the business in order to retain full ownership, giving up your share in the company for assets or cash of equivalent value, or liquidating the business completely and dividing the assets.
Talk to a Birmingham Divorce Lawyer
If you are considering a divorce and are concerned about possible business implications, the best thing you can do is speak to a divorce attorney as soon as possible. Contact the experienced Birmingham divorce attorneys at Peeples Law today and schedule a personalized consultation.