What Is Child Custody Mediation?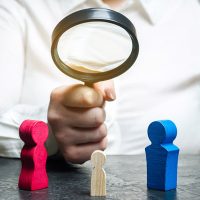 If you are going through a divorce or anticipating a child custody hearing, you may be incredibly stressed by the process of having to go to court. Luckily, you may not have to step foot in the courtroom at all. Child custody mediation allows you to reach mutually agreeable terms on all aspects of your child custody case with your co-parent and draft them into an agreement which can be approved and ordered by the court without you ever having to stand in front of a judge.
Child Custody Mediation Basics
Child custody mediation is facilitated by a neutral third-party mediator who often has a background in family law and is trained in alternative dispute resolution techniques. Your child custody mediator may be a former or licensed family law attorney, a retired judge, a social worker, or someone with a different background. You can retain an attorney to accompany you to child custody mediation to represent your interests and make sure that any outcomes reached are equitable, or you may choose to attend the negotiations yourself. If you do this, you can still consult with an attorney and have them review any agreement that is drafted before it is submitted to the court. Most child custody matters can be resolved over a handful of sessions which each last about three hours. These sessions will usually be spread out over a number of weeks in order to give the parties time to process, talk to their lawyers, and gather any necessary information.
The Benefits of Child Custody Mediation
One of the biggest benefits of child custody mediation is that it provides parents more control over the process than if they went to court. This can allow for more peace of mind, and less tension throughout the process. This process can also be much less contentious and can allow for the development of skills necessary to build a more collaborative and productive co-parenting relationship moving forward. Many parents say that child custody mediation was better for their mental health and easier on their child than a contentious court battle would have been. Additionally, it's important to many parents to keep all information related to their custody matters confidential. When custody matters are decided in court everything becomes a matter of public record, which can be damaging to children who access it later on. Finally, child custody mediation also saves parents time and money. Many parents deplete so many of their assets in a litigious custody hearing that the child actually suffers major life changes as a result. Child custody mediation can be a way to put your child's best interests first and save time and money on the custody process.
Schedule a Consultation with Peeples Law
If you are considering whether child custody mediation may be right for you, the experienced Birmingham family law attorneys at Peeples Law are ready to help you determine the best course of action based on your specific circumstances. Contact Peeples Law today to schedule a consultation.