Creating A Time-Sharing Schedule For Active Duty Military Parents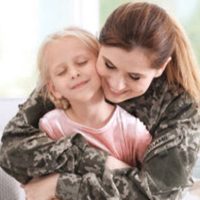 Custody is never an easy issue. Creating a time-sharing schedule that works for both parents can be impossible even under normal circumstances. When one or both parents are active-duty service members this completely changes the metrics, and can make it hard to ensure that care is available for the child at all times. However, if you are a military parent concerned about maintaining custody of your child, do not worry. Courts have tools in place to ensure that your military service will not impede your rights to custody. The most useful of these is known as a Family Care Plan.
What is a Family Care Plan?
A family care plan is used to ensure that your child's needs will be met regardless of last-minute or even long-term military obligations. A family care plan allows single military parents to also maintain a stable custody arrangement and ensure that their child is cared for. This plan includes both short- and long-term care plans. In the plan, a parent will appoint a civilian (non-military) caretaker who lives near the parent's military base and is available to care for the child at any time, day or night, with no prior notice. This person should be selected carefully and should be completely aware of the responsibility involved. They will be required to sign the care plan. You may also wish to include an alternate last-minute care provider in the case of unforeseen circumstances such as your appointed caretaker having a serious illness. In addition, the plan must include a long-term care plan for times when you are deployed or on longer assignments. The long-term caretaker does not have to be local to the military base, but they must be a non-military civilian. Grandparents or other family members are often good choices. They will also be required to read and sign a copy of the family care plan.
What Should the Family Care Plan Include?
In addition to appointing short- and long-term caretakers for your child, you must also provide detailed care instructions. You will not always have sufficient prior notice to leave things like the Wi-Fi password, your child's doctor's contact information, and allergies written on a note on the fridge. For this reason, it's important to ensure that absolutely everything a caretaker would need to know in order to stay in your home and care for your child is covered in the plan, including your child's schedule, their teacher, the location of the school, addresses of babysitters, doctors, and extracurricular activities, and anything else that someone caring for your child would need to know day-to-day. Because much of this information changes, it's important to also update your care plan each year and to check in with your appointed caretakers regularly to ensure that they are still able to fulfill the responsibilities of the care plan.
Contact Peeples Law
If you are a military parent in need of assistance with a custody matter or in developing a family care plan or time-sharing schedule, the experienced Birmingham child custody attorneys at Peeples Law are ready to help. Contact us today to schedule a consultation and find out how we can help you.