How To Prepare Before Filing For Divorce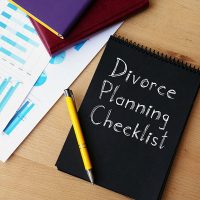 Divorce can feel daunting. It may be hard to know how to approach it or what a "baby step" toward divorce would even look like. In reality, there are a lot of things you can do as you consider and prepare for divorce before you even file for it. The best thing that you can do when considering divorce is talk to an attorney to determine your options. Once you know your options it gives you the power to assess them and choose the one that meets the needs of you and your family the best. Your Birmingham divorce lawyer can then help you work toward that option.
Preparing for a Divorce
There's no one thing to do before you file for divorce. Every divorce is different. A divorce attorney can help you determine how best to prepare for your particular divorce. However, in this article we will provide general information. If you would like to schedule a consultation with an experienced Birmingham divorce attorney in order to receive personalized feedback on your specific circumstances, call Peeples Law today.
Get a Handle on Your Finances. A financial planner may be helpful during this step. Getting a solid understanding of your marital assets and debts is critical going into a divorce. It's also important to determine how much your expenses will be post-divorce. Understanding how much money you will need, as well as to support any shared children, is critical in determining several key issues in a divorce. Getting the facts in order can give you a significant leg up going into a divorce. Establishing credit in your own name and gathering proof of income (for both you and your spouse) will also both be helpful in this process.
Get Clear on Your Intentions. Divorces can be long, complex, and emotionally messy. It can be easy to get lost in the overwhelm and upset of divorce proceedings. However, this is often counter-productive. Particularly if you have shared children, it can be important to set and keep an intention of participating in a mutually collaborative divorce or prioritizing family harmony.
Talk to a Divorce Attorney. If you are considering a divorce, talking to a lawyer should be the first thing on your to do list. A lawyer will help you get a realistic sense of your options as well as a game plan for moving forward.
Determine Your Desired Outcome. While you may not be able to guarantee a specific outcome, having a clear vision of your ideal outcome is extremely helpful in terms of helping your lawyer do everything in their power to support you in making that happen, or at least in working toward that outcome.
Take Care of Your Mental Health and Build a Support Team. It can be hard to keep an even keel during a divorce. Many people find it difficult to have to deconstruct the life they have built with their spouse while still being forced to live it. Having a therapist, counsellor, psychologist, and/or psychiatrist, can all be critical and helpful during this time. Alternative health practices, such as breathing, meditation, and yoga, may all also be helpful in coping with the stress and emotional effects of divorce. 
Schedule a Consultation with a Birmingham Divorce Lawyer
If you are considering divorce and are ready to learn more or take the next step toward dissolving your marriage, contact the Birmingham divorce lawyers at Peeples Law today and schedule a consultation.