Changing Your Name Back After An Alabama Divorce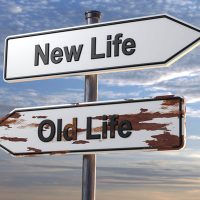 A divorce doesn't just dissolve a marriage, many times it dissolves an identity as well. The identity of "husband" or "wife" is left at the lawyer's office once papers are signed, but sometimes that's not enough. For people who took their spouse's name when they married, a divorce can cause them to want to revert to their maiden or pre-marriage name. Others may choose to keep their spouse's last name so that they can be consistent with their shared children, or because it is the name they are now best known by. There is no right or wrong decision, it's just about whatever feels best to you. A divorce can mean the end of a lot of things, but it also brings many beginnings. Taking charge of your identity and stepping forward in life is a big decision, and if you are ready to make it, we are ready to help you make it a reality.
How to Change Your Name Back in Alabama During a Divorce
The easiest way to change your name in Alabama is during the divorce proceedings. If you have not yet initiated the process or are currently going through it, the best thing you can do is tell your attorney that you want to revert to your pre-marriage name. In order for the name change to be folded in with the divorce the attorney must request the name change in the settlement agreement. The judge must then state that the request is granted in the final divorce decree. Without this statement in the final divorce decree, no name change has been effected. This is the fastest and easiest way to complete a name change while going through a divorce.
How to Change Your Name Back in Alabama After a Divorce or if Your Request is Denied
Of course, if you have already completed your divorce, you can still change your name. There is no time limit on changing your name in Alabama. If you are already divorced and wish to revert to your pre-marriage name you can simply file a petition to do so with the probate court through the same process that any adult would use to legally change their name. A lawyer can help you to navigate this process as well.
It's important to note that in some cases, the judge will not grant the name change request as part of a divorce. In Alabama, this sometimes happens if the spouses have shared children and the judge does not believe it would be in the best interest of the minor children to have a parent with a different last name. If this happens, don't get discouraged. You can still file a petition for a name change in probate court.
Talk to an Alabama Divorce Lawyer
If you are ready to reclaim your identity, the experienced Birmingham divorce lawyers at Peeples Law are ready to help. Contact us today and schedule a consultation and find out how you can take the next step into a better future.