Can A Postnuptial Agreement Save Your Marriage?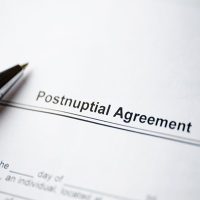 Some divorced people will tell you that signing a postnuptial agreement was the beginning of the end of their marriage, and others will say the same thing about signing a prenuptial agreement.  Likewise, couples who are still married may tell you that a postnuptial agreement helped them resolve a dispute or that a prenuptial agreement helped them prevent conflict in their marriage.  Postnuptial agreements cannot save a marriage that is doomed to fail, nor can they ruin a marriage that is built on a strong foundation.  A postnuptial agreement is nothing more and nothing less than a contract about finances, except that the parties to the contract are spouses instead of business partners.  If you get divorced after signing a postnuptial agreement, the agreement can make your divorce simpler, but if you stay married to your spouse for the rest of your lives, then the agreement can help keep the peace and your marriage and prevent disputes during probate.  Postnuptial agreements can only achieve these goals if they satisfy the formal legal requirements.  The best way to ensure that your postnuptial agreement is enforceable is to have a Birmingham prenuptial and postnuptial agreement lawyer help you draft the agreement.
Postnuptial Agreements as Estate Planning
Couples who get married late in life often rewrite their wills to account for the marriage.  If you and your spouse got married before you were old enough to think seriously about your estate plan, signing a postnuptial agreement might help you resolve issues that could lead to probate disputes.  For example, the financial support that you or your spouse provides to children from previous marriages could be a sore spot; when you got married, the children were much younger, and you could not have predicted how long they would need your financial support.  A postnuptial agreement can help you resolve the following issues related to blended families:
Indemnifying each spouse of responsibility for debts incurred by the other for the benefit of his or her adult children
Waiving the right to an elective share of each other's estate, thereby preventing conflict with stepchildren during probate
Designating certain assets as nonmarital property, so the children from the first marriage can inherit them
Renewing Your Commitment to Your Marriage After a Major Setback
Another situation where many couples sign postnuptial agreements is when they reconcile after a separation.  If conflict over debts caused them to separate, or if one spouse harmed the other financially in the course of an extramarital affair, addiction, or risky business decisions, the postnuptial agreement can protect the wronged spouse from responsibility for those debts, whether or not the couple eventually gets a divorce.
Contact Peeples Law About Postnuptial Agreements
A Birmingham family law attorney can help you draft a postnuptial agreement that could save your marriage, and if it cannot do that, it can at least be legally binding and enforceable in the event of a divorce.  Contact Peeples Law today to schedule a consultation.
Source:
legaltemplates.net/form/postnuptial-agreement/