How Does Custody Work For Unmarried Parents In Alabama?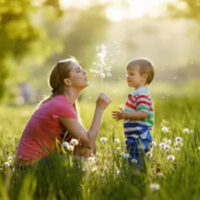 Often, child custody comes up in the context of a divorce. However, child custody agreements are relevant whenever parents share custody of a child, regardless of their marital status. While most custody laws in Alabama cater to situations in which a child was born inside of a marriage, a family law attorney can help you exercise your rights and come to a custody agreement that works for you. A marriage does not have to have existed in order for a custody agreement to apply. In fact, any situation in which parents share custody of a child qualifies for a legally-enforceable custody agreement. There may simply be additional steps to be aware of in the event that the parents are unmarried.
Father's Rights
Historically, Alabama has favored a mother's rights over a father's, preferring to give custody to the mother in most situations. However, that is no longer the case. Now, the best interest of the child is assessed in determining the best possible custody arrangement for them. Alabama law does skew in favor of married fathers in that unmarried fathers have more obstacles to overcome. For instance, they must establish paternity, particularly if they are not listed on the birth certificate. If the father is not listed on the birth certificate, his paternity can be challenged, so proving that he is the biological father will be necessary. An unmarried father, upon proving that he is the child's biological father, must also file a petition with the court to receive custody and visitation rights. In other words, these rights are not guaranteed. It is important for unmarried parents to be aware of these steps. A family law attorney can also help you to navigate them.
Reaching an Agreement
Under Alabama laws, parents have the right to create a custody agreement or parenting plan on their own and submit it to the court for review and enforcement. Generally, a lawyer or lawyers are instrumental in this process. It is always preferable to mutually arrive at an agreement so that all the court has to do is review and approve it. This increases everyone's chances of getting what they want out of the situation and ensuring that it feels equitable and sustainable. When the court reviews the agreement it will consider things like the home environment that each parent can offer the child and the proximity of the parents' homes, both to each other and to the child's school, church, other family members, support network, and activities. The court will also consider the likelihood that the parents will be able to adhere to and maintain the agreement as it is written and the willingness of each parent to build a relationship with the child and remain on productive and cooperative terms with the other parent.
Contact a Birmingham, Alabama Family Law Attorney
If you need help creating a custody agreement that protects your rights and caters to your unique situation, the compassionate and experienced Birmingham family law attorneys at Peeples Law are ready to help. Call Peeples Law and schedule a personalized consultation today.