Can Your Ex-Spouse Force You To Pay For Your Children's Summer Camp?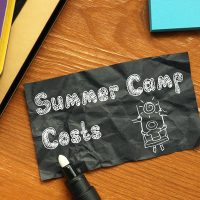 When your 13-year-old daughter stayed at your house last weekend, she was excited about the prospect of participating in a STEM enrichment program in her school district in the summer.  She was looking forward to spending the summer learning algebra and building a contraption that would enable a raw egg to land safely after being dropped from the school roof.  You were looking forward to it, too, since it would help her stay focused on her studies and provide opportunities for the two of you to bond over your nerdy interests.  This weekend, she changed her mind.  It seems that your ex-spouse promised to send her to an equestrian summer camp out of state.  You think that this is a terrible idea, since, not only does the camp cost a fortune, but it also interferes with several weekends of your parenting time, but your daughter will hear none of it.  Even though you know that you and your ex could never afford to send your daughter to equestrian camp, not even by maxing out your credit cards, you know that your ex is just trying to make your daughter think that you are to blame for anything that she wants but doesn't get.  If asked to do so, the family court would take a position on all of the issues involved in this mess, but at what point does it become worth the drama and expense of going to court.  A Birmingham child custody lawyer can help you prevent and resolve disputes like this one.
Summer Camp and Alabama Child Support Cases
Ideally, your parenting plan already includes provisions about summer camp.  Specifically, it indicates which parent has the final decision about extracurricular activities.  Summer camp only sometimes counts as an extracurricular activity, though.  When children are in elementary school, they are too young to stay home alone, so summer camp counts as a child care expense when both parents are working.  This means that your parenting plan and child support order already cover it; in other words, your child support order already includes summer camp for younger kids.  Disputes can still arise if the parents disagree on which summer camp the kids should attend, such as if there is a substantial difference in price or commute time between Mom's choice of summer camp and Dad's choice.
For teens who can legally stay home alone during the day while their parents are at work, there is no legal obligation to pay for summer camp.  Your ex can send your teens to the fanciest summer camp in the world, as long as it doesn't interfere with your parenting time, or as long as you amend your parenting time by mutual agreement, but you have no obligation to contribute to the cost.
Contact Peeples Law About Summertime Co-Parenting Hassles
A Birmingham family law attorney understands that the summer can be the most challenging time for co-parenting school-aged children.  Contact Peeples Law today to schedule a consultation.
Source:
2houses.com/en/blog/kids-divorce-who-pays-for-summer-camp