Can You Get Divorced If You Never Made Your Marriage Official?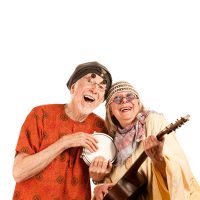 Some couples are married in all but name, and they freely acknowledge this.  They live together and have children together, and perhaps they even wear rings on the appropriate fingers, but a Celtic handfasting ceremony, or perhaps only an unspoken commitment, takes the place of an official marriage.  If these couples separate, both parties know that it is not a divorce, even though they still have to deal with co-parenting and plenty of hurt feelings.  On the other hand, there are other couples who think that they are married until a divorce court tells them otherwise.  For example, in 1990, Mick Jagger had a wedding ceremony with Jerry Hall, the mother of four of his children, on the island of Bali in Indonesia.  When the couple separated nine years later, there was room for debate about whether they had ever been legally married, and this led to a complicated legal battle.  If you have filed for divorce, and now your spouse, or even the divorce court, is questioning whether you were ever married in the first place, contact an Alabama divorce lawyer.
Alabama No Longer Requires a Marriage License
Alabama, a state that loves big weddings, requires considerably less fanfare than other states to make a marriage official.  As of 2019, you do not even need a marriage license; in fact, Alabama no longer issues them.  Whether or not you had a wedding ceremony, you can make your marriage official by both spouses signing a marriage certificate in the presence of a notary public and the notary signing and notarizing the marriage license.  The marriage becomes legally valid if and when one spouse files the signed and notarized certificate with the court within 30 days of the second's spouse's signature.
These new rules can cut down on last minute pre-wedding drama, but they can also increase the risk of you not finding out that your spouse is not legally eligible to marry you.  When courts issue marriage licenses, they do it only after verifying that both spouses are of legal age and that, if either spouse has been married before, the marriage ended and the previously married spouse is now widowed or officially divorced.  In Alabama, it is, "Marry at your own risk."
When Formalizing Your Marriage Falls by the Wayside
The worst-case scenario is that no one turns in the signed marriage certificate and assumes that one of the other eligible parties has done it.  It can also happen that returning your signed marriage certificate gets lost in the shuffle as you pile into your balloon-filled car and drive to the airport just in time to catch the plane to your honeymoon. If you divorce after all of this, the court will treat it as an annulment instead of a divorce.  You will still be entitled to a parenting plan, but alimony is not applicable, and none of your property is considered marital.
Contact Peeples Law About Divorce Riddled With Unpleasant Technicalities
A Birmingham family law attorney can help you if you found out too late that your whole marriage was a lie.  Contact Peeples Law today to schedule a consultation.
Source:
theamm.org/articles/548-alabama-no-longer-requires-marriage-licenses-or-solemnization-what-does-that-mea