How Does A Restraining Order Affect Your Divorce Case?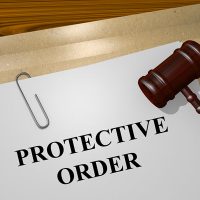 Despite what your parents and school guidance counselors tried to tell you, pettiness and bullying do not automatically disappear when you graduate from high school.  People saying terrible things about each other and trying to sabotage each other's new relationships still happen, and thanks to the Internet, they can now happen in full view of the entire world.  To name just a few examples from divorce cases that are currently making the news, a court just issued a restraining order against Lisa Hochstein, a Real Housewives of Miami cast member, requiring her to stay away from Katharina Mazepa, the girlfriend of Lisa's estranged husband Lenny.  Elsewhere, a court ordered Alice Evans to stay away from her ex-husband Ioan Grufudd and his girlfriend Bianca Wallace for the next three years, including not posting about them online.  Kim Kardashian and Pete Davidson just ended their relationship, which began and ended during the pendency of Kim's divorce from Kanye West.  While no restraining orders have been made public, fans certainly thought that Kim and Pete should file restraining orders against Kanye, especially after the threatening music video he made just before Valentine's Day.  Harassment is not just for celebrities, and neither are restraining orders.  If you are separated from your spouse, and the court has issued a restraining order, contact a Birmingham divorce lawyer.
Restraining Orders and Alabama Law
In a legal context, the term "restraining order" refers to any court order in which the court tells someone not to do something, including but not limited to a court ordering a landowner not to demolish a building or a film production company not to film in a particular location.  The types of restraining orders typically associated with family law cases and domestic violence are called protection orders, and the court issues them pursuant to the Protection From Abuse (PFA) Act.
You can get a protection order against your estranged spouse or ex-spouse if you have reasonable fear of domestic violence, whether or not incidents of physical violence have occurred.  You can also get one if your ex is harassing your or your new partner in person or online.  How the protection order affects your divorce case and co-parenting relationship depends on the details.  It may just mean that you and your ex have to communicate through your lawyers, and another family member has to transport the children from one parent's house to the other.  If there is a history of physical violence, then your ex might get supervised parenting time only or even temporarily lose parenting time altogether; the courts revisit the case every few months when a court has forbidden a parent to spend time unsupervised with his or her children.
Contact Peeples Law About Divorce Cases Involving Domestic Violence
A Birmingham family law attorney can help you file for a protective order against your estranged spouse or proceed with a divorce case if the court has already issued a protection order.  Contact Peeples Law today to schedule a consultation.
Sources:
alabamalegalhelp.org/resource/divorce-and-domestic-violence-in-alabama-answ
uk.sports.yahoo.com/video/alice-evans-risks-violating-ioan-111500711.html
dailymail.co.uk/tvshowbiz/article-11091851/Skete-Davidson-DEAD-age-28-Kanye-West-celebrates-Pete-Davidsons-split-Kim-Kardashian.html
heavy.com/entertainment/real-housewives/lisa-hochstein-stalking-accusations-court-documents/
heavy.com/wp-content/uploads/2022/08/mazepa-hochstein-3.pdf